The Reality about Guest Blogging…or trying to!
Remember: What is guest blogging?
Guest blogging is a technique to educate a wide audience around a particular topic and allows a guest to write an article on another blog.
This debate often comes up, is guest blogging that useful or not? It's a tricky one because guest blogging allows you to share your knowledge/opinion on a topic but it's also not an easy strategy to put in place. I want to show the reality behind guest blogging…or trying to!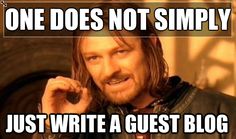 1. It takes a lot of time
Remember those long journeys asking 'are we nearly there yet?'
Let's kick off with the first 'reality'. Guest blogging can take time. It's not just about writing an article and being able to post it online straight away (if only it was that easy!). Most blogs that accept guest articles take at least a couple of weeks or even months to be accepted. They normally have to be manually checked by the editorial team to make sure it fits their style and to check there aren't any spelling mistakes.
It also takes time for you to find a topic that hasn't been written about. The amount of content out there is unbelievable and writing about something that hasn't been read before can be a challenge, but a challenge worth taking on. People are curious and always on the lookout for interesting ideas, opinions and subjects, once you get their attention, they'll be queuing up for more of your content!
REMEMBER
Articles don't get accepted straight away, it can sometimes take weeks or months
It takes time finding a topic that is original and hasn't been written about yet
2. Can turn out expensive
All the things I could do, if I had a little money.
You write an amazing guest article and you want to get the attention of a large audience right now…well this is where you might have to dig into your pocket and be ready to spend some money to achieve this. Getting your articles on high authority websites tends to include a cost, this could be in the hundreds or even thousands but it does guarantee a good backlink, high level of engagement with your guest post and potentially see your website traffic quickly increase.
Now this option really does depend on if you have the means to do it aka your marketing budget. It's a fast way to get your content out there, but don't let it be the only option of getting guest blog opportunities. There will be plenty of cost-free opportunities too
.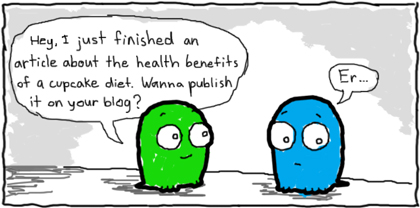 REMEMBER
Getting your articles on top authority sites sometimes involves a cost
Paying for your article to be published is a quick way to earn a backlink, engagement and drive traffic to your site
3. You might have to adapt your writing style
Which character are you going to play today?
You have a blog on your website, your style is informal, uses slang, jokes and emojis and that works perfectly for you and your readers, but your style might not necessarily work as well for other blogs. When writing guest posts, you might be required to adjust your writing style so that it fits in with the blog's style. My advice is, do your research first so that you don't waste time writing an article the way you want to then realize it won't fit at all with the target audience. Read the existing articles on the blog, understand the style they use, the format of each article, and adapt your style to theirs. Your post will more likely be accepted if you adapt to the blog inviting you to post.
REMEMBER
Some guest blogs require certain writing styles
You will need to adapt your style in order for your post to be accepted
4. Emphasis is on having that winning pitch
It's your moment to shine.
Your goal when writing a guest article is to grab the reader's attention and more importantly show how your article will benefit the readers, i.e. what will they learn from your content that they can put into practice themselves. For example, it needs to include concrete examples and actions that the reader can take away and apply them to their business.
When working on your pitch, take a personalized approach for every blog you're writing to. A general pitch sent to five blogs won't get you anywhere. You need to show to each blog that you've got a real interest in working with them and that you're on the same path, aka you've done your research
. Having an opportunity to write a guest post is beneficial for both parties and so it's important you do it for the right reasons.
REMEMBER
Your goal is to show how your article will benefits their readers
Your pitch must be adapted to the blog accepting guest posts
Don't just try this approach for the sake of it, do it for the right reasons
5. Risk of wasting your time
Regretting wasted time is more wasted time.
In the business world time is precious and something we'd all wish we had more of, so I can imagine your disappointment when you spend time writing a guest post for it then not to be published. And there's always the risk of this happening…but don't let it get you down! It's important to persevere, just because this blog didn't accept your article doesn't mean it won't suit another website. Getting guest posts accepted is a difficult process and it won't always be a walk in the park.
REMEMBER
There is always a risk of writing an article and it not being published
It's important to persevere and find the next blog to pitch to
Conclusion
Guest blogging allows you to share your knowledge and communicate your ideas to a wider audience. Yet, it's not as easy as it makes out and requires perseverance, time and occasional knock-backs.