Easy & All-in-one
SEO Solution
All-in-one. Easy to use. Scalable. For every website.
Join 104360 happy users

Improving your Google website ranking
has never been so easy!
The all-in-one SEO Solution: rank tracking, SEO page optimization, backlinks, etc.
67% of rank drops are fixed thanks to Cocolyze.
SEO Rank Tracking
Track your visibility on Google.
Everyday, all around the world.
Website optimization analysis
Analyze and optimize your pages.
On any website. On Mobile and Desktop
Backlink checker and watch
Analyze and watch your backlinks.
Remove toxic links and recover lost links.
Competitor tracking
Track any competitor's changes.
Up to 20 competitors/website.
More than 78 features easy to use in only one SEO Software.
Cocolyze is the SEO software for businesses and agencies, from beginners to advanced experts.
The first 14 days are on us!
Start your free 14-day trial and make your own opinion.
No credit card required. No contract.
SEO made easy for everyone.
Custom tasks for SEO beginners
Daily custom tasks
Competitor suggestion
Helpful articles
Keywords suggestion
Backlinks opportunities
Advanced data for SEO experts
Deep on-page analysis
Complete crawl analysis
Off-page SEO & backlinks
Daily updates
Export, filter and sort data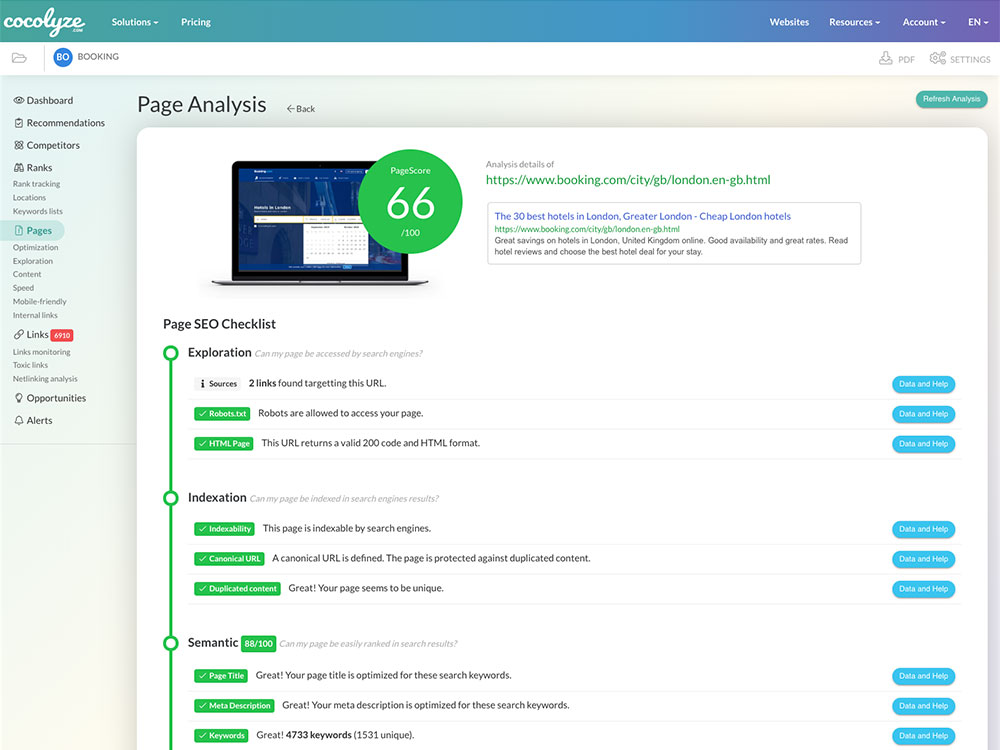 Advanced features for Advanced SEO experts
Worldwide Rank tracker
Track your Google website ranking every days in more than 165 countries.
Javascript SEO Crawler
Get a full scan of your website and get exploration, indexation, content and performance issues.
Instant Analysis
Get instant deep SEO analysis of any page and re-check them as many times as your need.
Keywords suggestions
Get one of the most complete keywords suggestion, based on our databases, on your competitors and on Google data.
SEO events recording
Get back in the past and check what happened on your competitors website a few days ago.
Toxic backlinks
Retrieve and monitor all your backlinks and check for Toxic backlinks easily.
Projects Management
Manage your SEO campaigns easily thanks to our Campaign management system.
Multi-users management
Create as many Cocolyze accounts as you need for your team.
Nice PDF reports
Export nice and clear PDF reports of your campaigns anytime.
Why you
lose

thousands of visitors from Google everyday

Using an SEO Software allows you to monitor your visibility and find a solution for your optimization.

SEO is a competition where rules don't exist.
This would be so simple…everyone wants the first place in Google. Unfortunately there is no official rule except from being better than your competitors. The only solution is to use SEO Software which measures and analyzes different aspects of SEO website optimization.There are many factors influencing your optimization: your content quality, your website performance, importance of competition, the number of links (backlinks) towards your site and your visitor's behavior.

You need data and algorithms to know how to react.
To understand why a website is ranked in front of another in Google you need to analyze several dozens of criteria over hundreds of data. For example, the 843 content keywords on a page, its 1542 links, the rank history ove the last 3 months, the 100 sites ranked on the same keywords, etc, all that everyday and on all keywords that you wish to rank upon.

If you don't improve, your competitors will pass in front of you.
A website doesn't rank in first place in Google indefinitely. Your competitors try to take your place everyday, and you could completely disappear from Google if you don't react. You need to spy on your competitors, anticipate their strategy and react quickly. SEO is still the top source of traffic for internet sites today, and therefore their revenue.
SEO Rank Tracking
Track your Google ranks everyday to be alerted of rank losses or gains everywhere in the world. Find the most important keywords to work on thanks to our SEO Value indicators. Contrary to Google Search Console, Cocolyze tracks your ranks on all keywords that you wish to work on and analyzes the SERP (results page) in order provide you with personalized advice and improve your ranking. Discover SEO Rank Tracking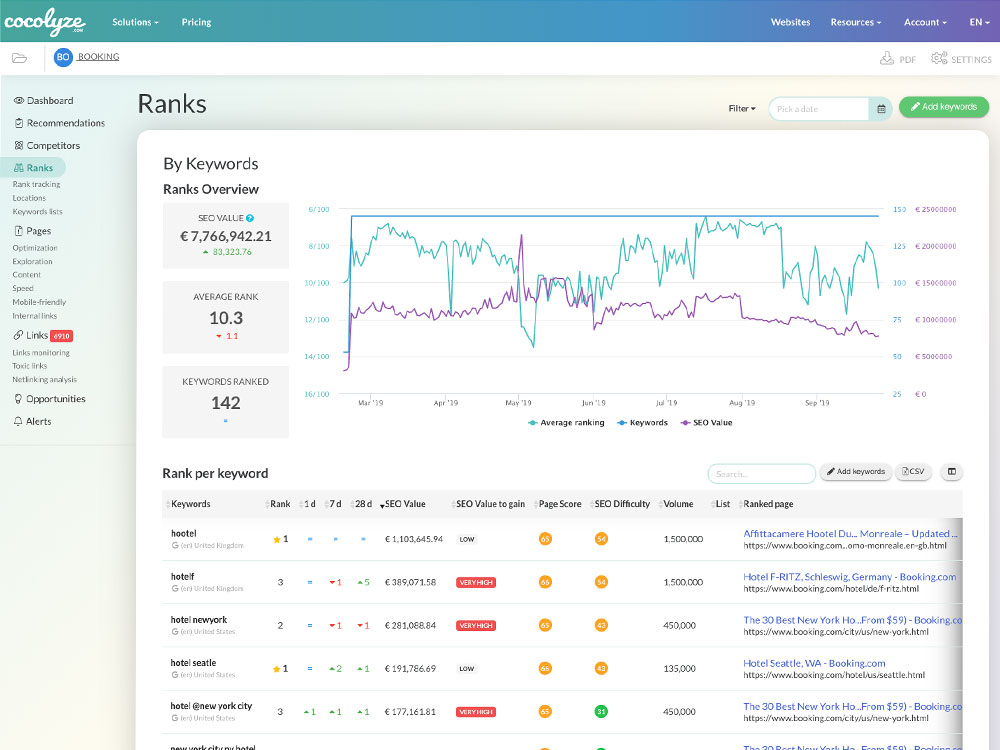 SEO Page Optimization
Cocolyze automatically analyzes all your website pages everyday to inform you of any content or performance problems. The on-page SEO analysis tool provides you with a list of prioritized actions to carry out to optimize your web page easily. Analyze the pages of your competitors to compare your optimization. Cocolyze saves every page change to allow you to understand what change had an impact on your ranking. Discover the on-page SEO analysis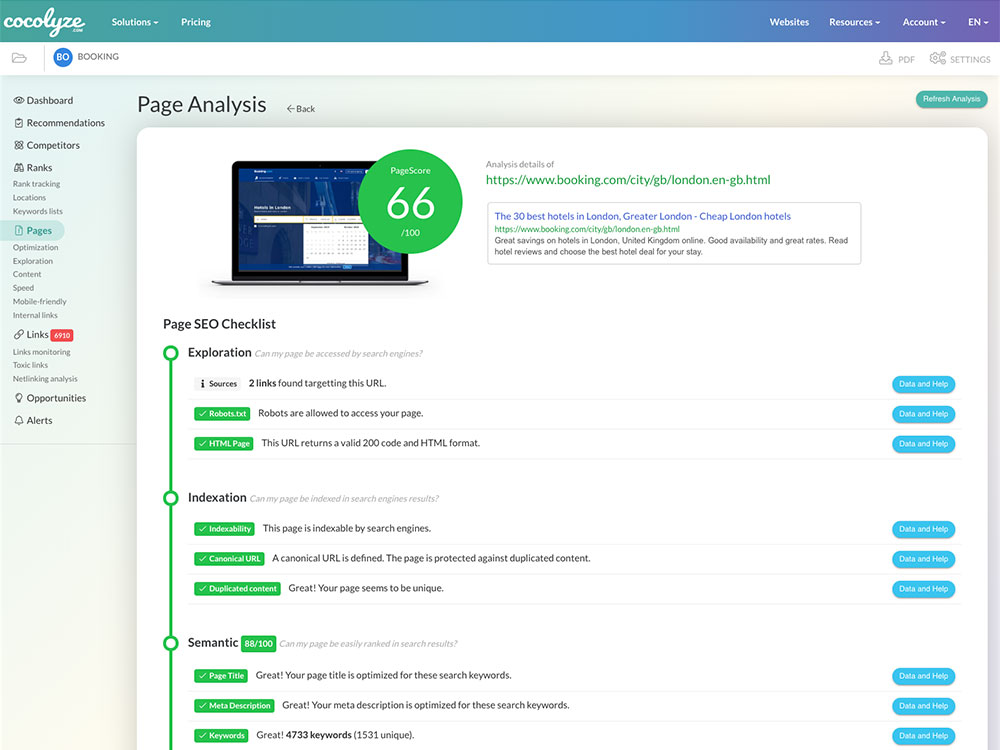 Backlinks monitoring
Track and analyze your backlinks everyday to improve your net-linking. Cocolyze retrieves your backlinks everyday from the biggest backlinks database, Majestic SEO (more than 8 trillion), and analyzes them to inform you of any new backlink or any lost backlink so that you can try and get it back. Our analysis algorithms allow you to detect and disavow toxic backlinks for your SEO thanks to our Spam Rating indicator. Discover the backlinks monitoring tool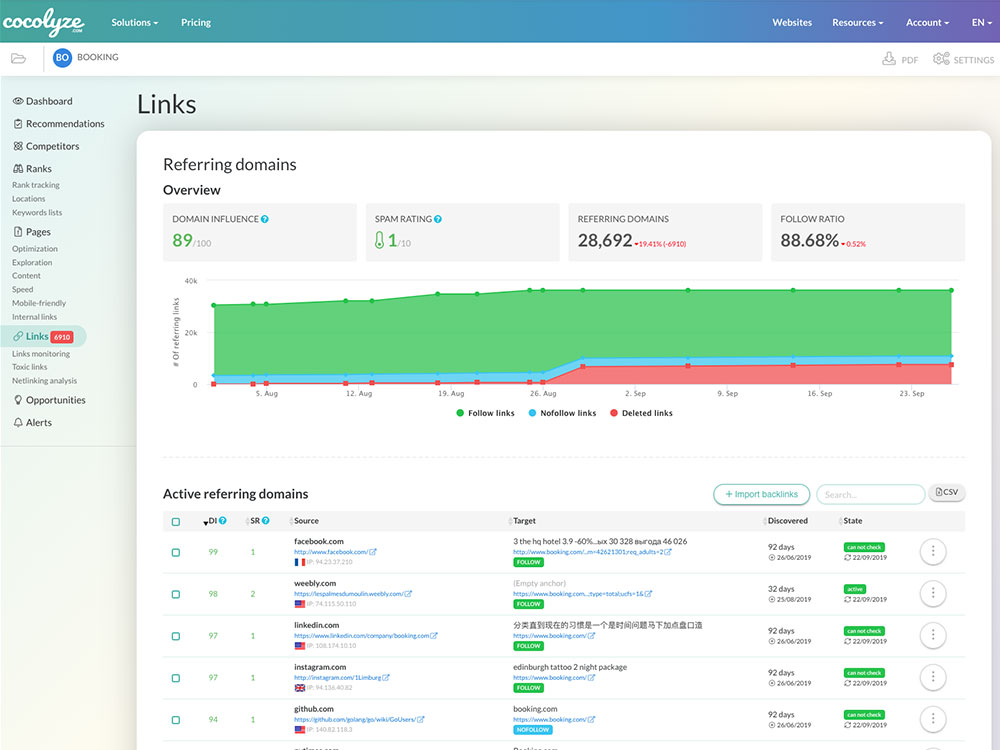 Competitor SEO tracking audit
Find out the strengths and weaknesses of your competitors on all factors influencing their ranking on a specific keyword by analyzing their strategy everyday. Cocolyze analyzes and tracks your competitors just as well as your site, everyday, on all your keywords and ranked pages of your website and of your competitors. Easily detect the rising competitors for each category of your site and go back in time to understand what changes have been done by your competitors to improve your ranks. Discover the competitor SEO audit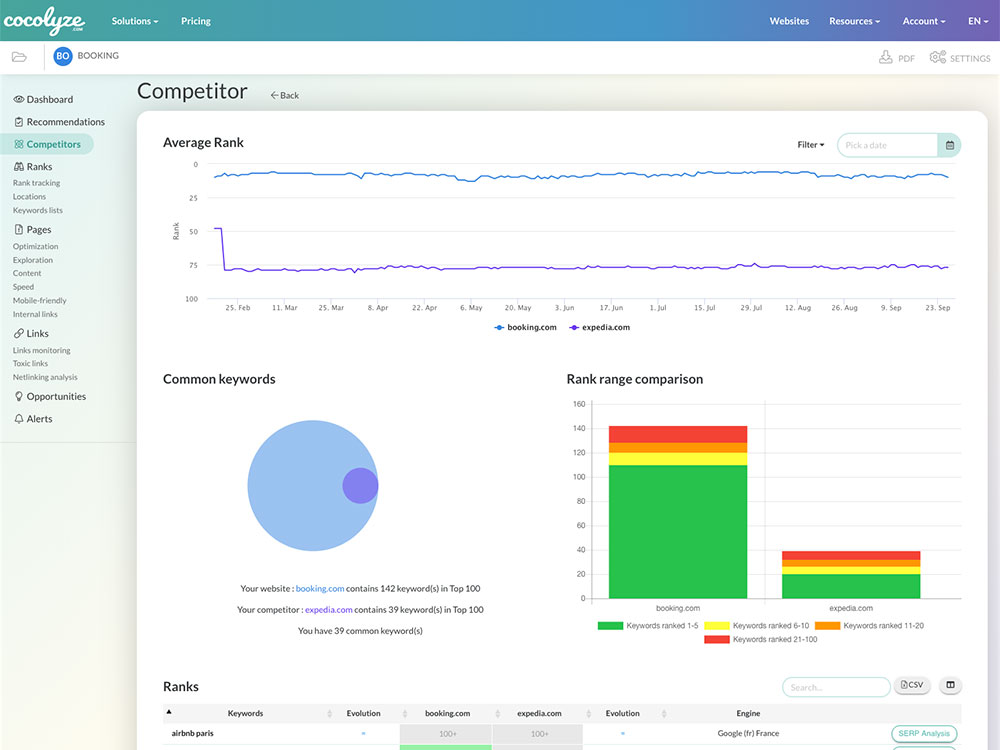 What our customers think about Cocolyze?
We gained + 25% of Google ranks in the past 6 months thanks to Cocolyze. With Cocolyze we have been able to put in place a strategy to refocus the site on a selection of keywords and exclude others. This SEO tool provides real-time tracking and produces a very simple outlook of the situation. The team's availability is also great; I felt like I was dealing with a real SEO pro.
Pierre G., Nounouland.com founder.
The SEO Solution for web professionals
More than an SEO analysis tool, the Cocolyze solution allows you to quickly measure the return on investment thanks to numerous SEO indicators based on reliable data.
Reliable data
It took several years of research and development to design Cocolyze. We developed analysis algorithms that allowed us to provide the right information at the right time, based on the biggest and most reliable SEO databases, such as Google and Majestic SEO.
KPIs updated everyday
Your dashboard of your SEO activity that you'll never leave alone! Our KPIs allows you to compare and track your SEO visibility, your competitors and factors blocking your page optimization in a blink of an eye, all under this one centralized SEO Solution.
A tool for Agencies as well as Editors
Cocolyze is intended for both SEO services providers and website editors. Share your campaign easily with your colleagues, your partners, or your clients if you are an SEO agency. Cocolyze is an SEO Software used by SEO project managers, consultants and Marketing Managers.
The first 14 days are on us!
Start your free 14-day trial and make your own opinion.
No credit card required. No contract.