Looking for a keyword planner tool that provides keywords that are easy to rank for? Yes, please.
1. Why carry out a Keyword Research?
Keyword research is understanding what keywords internet users are currently searching for in Google to be able to find you in the results. Keyword research is the beginning step for all your online marketing efforts because choosing the right keywords is what will drive traffic, sales and ROI to your business. It's important to find new keyword ideas that will be relatively easy to rank for because keywords are what will make the difference in whether you get found in the search engines or not. By getting effective keyword suggestions you can determine the right sort of content and rank well in the search engines to bring in qualified traffic and be in a strong position in the SERP.
A keyword research done well is about understanding the context; getting the right keywords that will bring in qualified leads for your business. With a keyword research It's important that you think about four aspects:
Are these keyword suggestions really targeted towards my audience?
Will internet searchers who use these keyword ideas find their answer on my website?
Are searchers using my chosen keywords in their search requests?
Will this qualified traffic lead to an increase in my business' ROI?
Carrying out a keyword research using a keyword suggestion tool will provide you with important metrics such as search volume, CPC, competition and keyword difficulty thus helping you to decide how useful and helpful each keyword suggestion will be for your SEO. A keyword research will give you in-depth insights into what specific words people really search for in the search engines.
2. What is Google Keyword Planner?
Google Keyword Planner is a tool to find keyword suggestions to guide your decision in what keywords you can use to help optimize your website in the search engine results. The Google Keyword Planner is a tool on the Google AdWords platform generally for campaign advertisers who want to understand how well different keywords will perform in the SERP. This tool allows you to get keyword suggestions based on the words or phrases that you type in. With this keyword planner you can carry out a keyword research in three ways:
Type in a general word that describes your business activity
Type in seed keywords which are more niche words that describe your activity
Type in a URL related to your business (this one is generally for AdWord users)
To access this keyword planner tool, you will need to have a Google account however setting up an ad isn't compulsory to access the keyword suggestion feature. There are two paths to choose from on the keyword planner tool: find new keywords or get search volume forecasts. Click on find new keywords then you can start your keyword research process. Once you type in your keyword you will be directed towards a list of keyword suggestions with important metrics such as average monthly searches, level of competition and, the lowest and highest page bid. You can choose various countries that you're targeting as well as the targeted language of the keywords. It is designed with AdWord advertisers in mind so some features are not relevant to all users. For example the bid range for each keyword; this is only relevant for advertisers who want to pay to be positioned on a keyword or phrase due to the difficulty of ranking on a keyword manually. It makes it easier for advertisers to plan their campaigns and make their budget go as far as possible. Google Keyword Planner is a reliable tool but is more directed towards advertisers wanting to pay for optimized keyword rankings to be sure of driving qualified traffic to their website.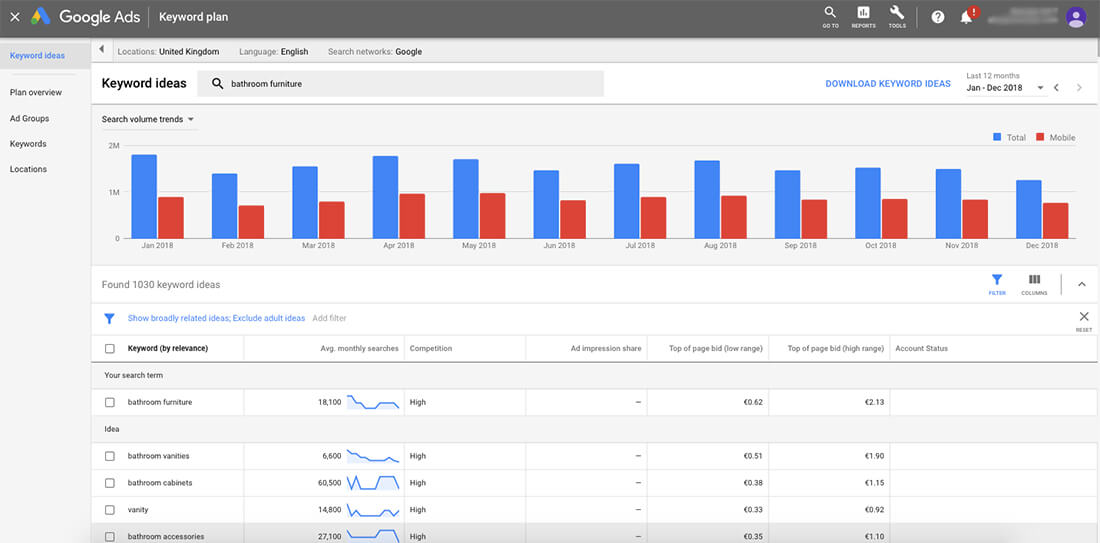 3. Why can't we use Google Keyword Planner anymore today?
However these days you can't bank on using the Google Keyword Planner and we'll tell you why. Firstly you have to create a Google Adwords account to access this tool. Once you've gotten past that step, Google really tries to get you to create an ad before you even know what keywords you want to target. A little too aggressive for those just looking for a keyword research tool as they don't make it very obvious to get around this step and get straight to the keyword planner tool. Consumers look for sites that are easy to navigate; any obstacles that delay them from carrying out their tasks will deter them from staying around.
Like with other keyword research tools you'd hope to see exact monthly search volumes for each of your keyword suggestions to help with your decision of which keywords to optimize. However Google Keyword Planner only provides search volume ranges. They are estimates of how many searchers are using this term and they don't provide a solid exact figure, even if this is something that Keyword Planner used to do. Not having an exact figure doesn't reassure marketers that they're targeting the right keywords and so the reliability in Google Keyword Planner decreases.
Thirdly, when it says there is low competition, this doesn't mean that SEO will be easy on a keyword. Low competition in the Google Keyword Planner means that there is no one bidding on this keyword, no advertiser paying to be ranked highly. This can often be misunderstood by many people when deciding what keywords to go for. Now, a keyword with a high competition means there are lots of people bidding on this keyword but it doesn't mean you can't include it in your long-term SEO game as it clearly brings in traffic and sales. The lack of explanation for this metric doesn't provide a clear focus for marketers on whether they should be choosing a specific keyword or not.
We also can't rely on Google Keyword Planner anymore because there is no keyword difficulty metric. We need to know how difficult it is to rank on a keyword but if the famous search engine can't tell us, we need to go in search of it with another keyword research tool. It's an important feature to know how much SEO effort needs to be put in if there's any hope of being ranked well.

4. Why are we the best Google Keyword Planner alternative?
We have a few great reasons why we're the best Google Keyword Planner alternative. Let's have a look at them here.
First of all we're a completely keyword planner tool; no email address or password needed, just your keyword or phrase so that we can provide the best suggestions possible. With Google Keyword Planner you need an account, specifically a Google AdWords account, with Cocolyze just your one keyword.
Unlike Google Keyword Planner where the keyword suggestions are limited to 2000 results, the Cocolyze keyword planner has no limits. We provide you all the possible results across the world in a wide range of languages. Our database has hundreds of millions of Google positions so that we can suggest the most relevant keywords for you.
Our results are instant and are displayed to you on one page so you can have direct access to the results. And if you don't have time to analyse the keyword suggestions straight away, our keyword planner lets you export your data allowing you to go away and decide on your keywords at another date.
If you're looking for a Keyword Planner alternative then Cocolyze will answer all your questions. We understand that when you're looking for new keyword ideas, you need to be able to analyse key metrics in order to reassure yourself that you're making the right decision. We also understand that it's annoying having to create an account just to get suggestions which is why you have a completely access to our keyword research tool. The only help we need from you is your keyword you want suggestions for and we'll do the rest for you.

5. How does our Keyword Research tool work?
Our Keyword Research tool is simple. In just a few clicks you get access to thousands of keyword suggestions that will help guide you in your decision of the best keywords for your website. Type in your keyword or phrase, choose the country that you want to target along with the targeted language and that's it. In just a matter of seconds you will get a full list of keyword ideas related around the inputed keyword in a simple and ergonomic table. We don't ask you to create an account or provide personal details, just one keyword that we can analyse and compare to the data in our SEO database to gather your keyword suggestions.
We give you full access to all the data so you can see the vast range of keyword ideas that we suggest. Once you arrive onto the list of keyword ideas, you get insights into important metrics that help in your decision of what keywords you can add and optimize into your website content. These metrics include difficulty, month searches, CPC, competition, evolution over one and twelve months and the yearly trend of the keyword in the search engine results page. Our keyword research tool is simple to use and allows you to really analyse the possible keywords that could increase your qualified website traffic. The table of results is filterable allowing you to filter the most interesting metric for you. All your data is exportable in csv format allowing you to keep a copy of all your keyword ideas so that you can go back to them at any point when working on your keyword optimization.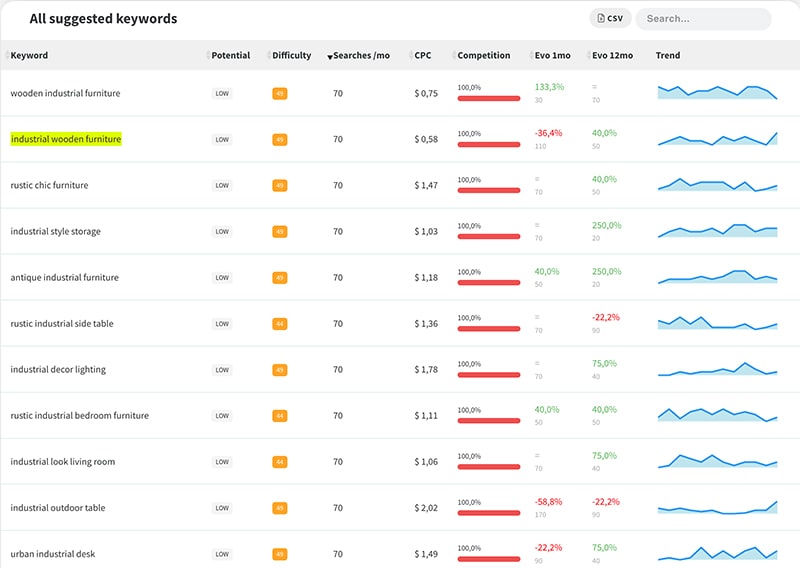 6. Understanding the meaning behind our SEO metrics
Understanding the SEO metrics on our tool is important in knowing what to take into account when choosing the best keywords for your business activity. We provide seven essential SEO metrics to guide you in your decision of keyword choices:
Difficulty: an SEO metric that tells you how difficult it will be to rank your website on this keyword. The higher the score, the more difficult it will be to rank in first position on this keyword.
Monthly searches: the keyword search volume is an exact figure of the number of times people search this exact keyword per month in the search engines.
CPC (cost-per-click): this is the cost you would pay for each click if you launched a targeted marketing campaign (Google Ads for example) for a specific keyword.
Competition: this score is based on the number of advertisers that want to place a sponsored advert (Google Ads) on a keyword.
Evolution: we provide the evolution of each keyword suggestion over one and twelve month periods to show if the keyword search volume has increased or decreased.
Trend: an SEO metric that shows you the trends of search for a keyword over one year. Hover your mouse over this SEO metric and you'll get a keyword search volume figure for each month of the year.
Using these SEO metrics will make it easier for you to know which keywords will bring in the most traffic, potential sales and ROI. It's with the help of these metrics that you should base your decision on what keywords to use in your website content. All the SEO metrics including the keyword column are filterable so that you can analyze them in the way you want. The keyword search volume is particularly important so that you're not optimizing a keyword which no searcher uses in their search engine requests.

7. Why are we the best Keyword Suggestion tool?
Cocolyze provides the best keyword suggestion tool in the market. It is completely to use with no need to create an account or provide any personal details. After requesting your suggestions we give you everything, every possible keyword suggestion so that you're not limited by the SEO possibilities. This means no hidden results, no 'sign-up for more results' jargon but solid, instant keyword suggestions that will help you in your content optimization work. Our keyword research tool also provides the most important SEO metrics that you need to be able to analyse the keyword suggestions provided. We wanted to make it simple for you to find new keywords to target. By just entering a keyword, choosing a target country and language, you have access to large field of SEO opportunities to get ranking higher in the SERP.
Our keyword suggestion tool is the most complete tool on the web and even more complete than the Google Keyword Planner. We gather different sources of cross-referencing data to generate reports with up to 3000 keyword suggestions. To achieve this large number we use data from Google Ads. Our SEO database contains hundreds of millions of Google ranks as well as all the related search keywords all analyzed via our algorithms and cross-referencing data. The use of all this combined data allows us to provide a maximum of keyword suggestions so that you can find keywords that correspond to your business activity the best way possible, and have the most SEO potential for your website. We want to provide you with keyword suggestions that will make a positive difference for your website in the SERP.
8. A Keyword Research tool for your SEO and Content Creation
In order to generate traffic from Google towards your website, you need internet searchers to be using the same keywords as what is included on your site in order for them to find you in the search results. The best way to understand this is to discover Google keyword ideas that have the best SEO potential. To do this it's essential to use a keyword research tool like Cocolyze. By using a keyword research tool, it helps you determine if your current keywords are good enough in terms of bringing in qualified traffic and SEO value, or, if there are better, more related keywords that you need to add to your content. The Cocolyze keyword research tool provides you with Google keyword ideas, that if optimized in the correct way, will improve your website's overall SEO. Our algorithms provide you with thousands of Google keyword ideas giving you the best possible chance of ranking well in the search engines.
Once you've got your Google keyword ideas, it's time to create content around these suggestions provided to you. Whether that be through your landing pages or blog articles. Creating content with the right keywords creates value to your website visitors because you're providing an answer to their search request. In return and if done well, Google will reward you with higher rankings in the search results. A win win situation; customers understand the value that you provide and you're pleasing Google with optimized content all thanks to the suggestions from our keyword research tool.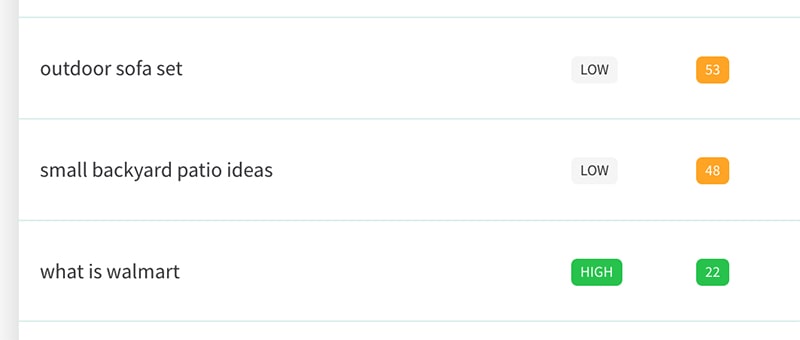 9. Keyword Suggestions for your International SEO
For any website with an international presence it's critical to include international SEO in your online marketing efforts. For example, this is about optimizing your keywords for a non-English speaker. If you don't optimize your keywords on an International basis you could potentially miss out on a large volume of website traffic because search trends vary across every country and language. Sticking to the keyword suggestions in your country and language won't help you reach internet searchers further afield and thus limiting the amount of traffic arriving onto your site.
If you're looking for keyword suggestions in different languages across various countries our keyword planner tool will be very useful for you. Our keyword planner tool can pull out keyword suggestions from 161 Google domains and in 55 languages, giving you lots of possibilities to optimize your content depending on the audience that you want to target. It's important that you get keyword suggestions that are relevant to the country and/or language you're targeting. Search trends differ from one Google domain to another and even across languages so it's important to use this feature when working on your international SEO. Getting keyword suggestions can be a long process but it's important to do it for every culture that you want to target.
10. SEO Keyword Ideas for paid advertising campaigns
Pay-per-click (PPC) campaigns allows you to bring in the right audience to your website quickly and effectively. If you want to run a paid advertising campaign it's therefore important to carry out an SEO keyword research to get some SEO keyword ideas that will bring in qualified traffic. Using an SEO keyword research tool like Cocolyze will help you choose the right keywords that users type into Google along with metrics to show you how much a keyword would cost you in an ad campaign and the level of competition you'll be bidding against. All our data is collected from the Google Ads platform making our tool reliable and useful for your PPC advertising.
Having an ad that includes relevant keywords will increase your click-through-rate (CTR), a lower-cost-per-click (CPC) and potentially a higher conversion rate because you're targeting keywords that respond to an internet user's request. As a result of a good SEO keyword research, you'll end up paying less for your advertising and generate a better return on investment (ROI) for your business. A pay-per-click campaign can quickly become costly for a business if the targeted keywords aren't fully representative of what your website content offers. This is why using a keyword research tool is essential in making sure your PPC campaign is as successful as possible and that your campaign budget is used in the most economical way.