Is Twitter really that good for businesses?
Reminder: What is Twitter?Twitter is a social networking service that allows people to instantly communicate and interact with messages known as tweets.
Twitter is one of the most widely used platforms across the world. So widely used that even businesses realized the potential it had to be able to regularly communicate their activities to their audience. But, it's not all fun and games. Twitter can also be damaging for businesses. Let's take a look here:
1. Allows for some of the best communication
Time to walk the walk and talk the talk.
The massive advantage with Twitter is that it lets you communicate to nearly absolutely anyone in just a matter of seconds. For businesses, this can be an opportunity to communicate their brand to a wider audience, an audience that they might not have even thought about…and more importantly in a creative way. It's not just about showing off what you offer but showing off your company's personality. Take for example Innocent Drinks. They have got their communication DOWN-TO-A-TEE!

Twitter also lets you reach and engage with influencers, celebrities and people that could help promote your business. Reaching out to those already at the top is a quick way of getting noticed because these people have a large following that will support whatever the tweeter tweets.
One more thing here is that Twitter makes your communication get straight to the point. For one tweet you only have 280 characters to play with. That's 280 characters to show to the world how great your business is.
REMEMBER
Twitter lets you communicate your brand to a wide audience
It lets you reach influencers, celebrities and people that could help promote your business
Makes your communication get straight to the point
2. Improves your customer service strategy
It's all about having that winning smile.
A customer has a problem with a service/product they've just bought from you and they need to get in contact with the customer service department. Most likely you have a contact form on your site… customers queries are added to a list as they come in and you respond as quick as possible.
Well, Twitter could just be the platform to improve your customer service! It adds transparency because it shows that you're more available and want to help.
Now, as much as I can't tell you how to do your job, allowing customers to contact you with queries on a social media platform also gets you to be productive. Productive in the sense of replying to positive or even negative tweets quickly…because not replying makes you look worse and there will be a lot of tweeters who will see your lack of response.
REMEMBER
Using Twitter adds transparency to your business showing that you're there to help your customers
Allows for quick communication between you and your customers
3. Tailor your tweets to whoever you want
Be as picky as you like!
As you already know, Twitter is used by a mass of people so you may be wondering 'well how am I going to target my specific audience?' Well Twitter lets you do just that! It allows you to promote your tweets to targeted accounts, for example you can promote your tweets to those following your competitors accounts. This is a great way of getting your brand noticed by people who are already interested in your domain. You can also target specific keywords or engagements, this could be even hashtags that people search for so your brand name appears in the results.
Last but not least Twitter also has a low CPC (cost-per-click) for their advertising so even if you've got a small marketing budget, it's worth testing it out to see how successful it is.
REMEMBER
Twitter allows you to promote tweets to targeted accounts
You can target specific keywords or engagements
Twitter has a low CPC for their advertising
4. Learn what others are saying about you
Who wants to play a game of Chinese whispers?
So much is said on the internet, good and bad, but it's amazing how much good is said about your business that you probably didn't know was being said, and Twitter is a great tool to see who's saying what.
Of course those who tag you in posts, it's easy to see because you get a notification on your account but sometimes tweeters don't do this and so you could be missing information. For example here at Cocolyze, I search our brand name in the Twitter search box everyday to see if people have tweeted about us…and there has been a number of occasions where our account hasn't be tagged. Like in this tweet for example: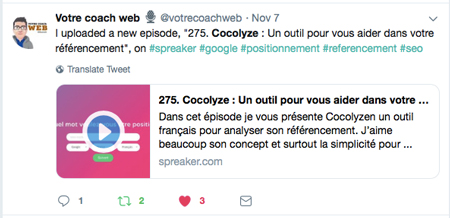 A podcaster did a new episode about our tool, posted it on Twitter and unless I had searched for our name, I probably wouldn't have seen it. So if your business has a Twitter account, think about searching your own brand name regularly to see how you're online reputation is going.
REMEMBER
Twitter allows you to see what people are saying about your business
This allows you to keep a close eye on your online reputation
But Twitter does have its problems…
5. Negative information spreads like wildfire
You need to nip it in the bud and quick.
Let's be honest here, more often than not if a customer has had a bad experience with a product/service, nine times out of ten they let everybody else know about it. Unfortunately for businesses this happens on social networks such as Twitter so that a large amount of people can see it. And that's the downside of Twitter, one negative comment about your business could be retweeted hundreds of times and the next thing you know, your businesses is going down under…ok well maybe not quite that far but it will certainly affect your reputation. What I've also seen on Twitter is that those with a large following will also get support from their followers if they complain about a business.
My advice for this is to always react positively to any negative comments. The worst thing is to ignore it, you need to act on it by trying to resolve the issue and showing the person in question that you care about their experience with you.
REMEMBER
One negative comment about your business could go viral
Those with a large following will get support if they complain about your business
It's important that you react positively to any negative comments
6. You have to fight to be seen
Ding ding, let round one commence!
Everyone who manages their business' Twitter account asks themselves this question: when is the best time of day to tweet? And you know what, I think we all have no idea 🙈. There is so much importance put on the time of day that you should tweet that every time we click on the tweet button, we worry how much engagement it'll get. There is so much competition on Twitter that it's no longer about the time of day you tweet, but about the people following you. If you don't have the right type of people following you, your tweets won't get seen, liked or retweeted.
Over the years I've learnt the best techniques to get engagement on tweets and time doesn't matter, it's who's around you in your social media universe that counts.
REMEMBER
There is too much importance put on the time of day that you tweet
If you don't have the right type of people following you, your posts won't get seen
7. Spam is at an all time high
Nobody got time for this.
Spam is also another factor that you need to consider as it also exists on Twitter. Some people simply create accounts to spread false and/or misleading information. For businesses, this could even be an account mimicking yours and so for your followers they won't know which one is the correct account to follow. Another thing with Twitter is that some people just create an account and retweet other people a million times just to get more followers and look like a popular account.
But is this really what Twitter is used for? On the grounds that Twitter is meant to be a platform to share, discuss and engage with others, it's now becoming more of place to just get your brand out there. Spam loses the trusts of the network, especially for businesses wanting to engage with their prospects or get potential customer feedback.
REMEMBER
Some only create accounts to spread false or misleading information
Others just retweets a million times rather than actively engage with other users
Spam loses the trust of the network
Conclusion
Twitter can be a great way to communicate about your product/service because it allows you to engage with the people you want. However, negative information spreads fast and it's never certain that you're posts will be seen.