How to succeed in Local SEO
Remember: What is Local SEO?
Local SEO (search engine optimization) is optimizing your website to rank better in the search engines for a local audience, i.e. a web page that corresponds to a physical location such as a bakery.
We all love a business that's just around the corner from us, the utter relief when you only need to walk five minutes to go get some bread and a newspaper. But how do people find these local businesses? You could pop in your car and have a drive around OR… there's Google. And this is where I introduce you to the world of Local SEO and how to succeed in it.
1. Use the schema.org markup
There's no better proof of existence than this for Google.
Remember that the schema.org markup is a code (in other words semantic vocabulary) added to your website so that search engines can better understand your pages and produce more informative results for users.
For Local SEO this is important because by adding the schema code, search engines can identify specific text on your website pages such as your business name, address and phone number. Three important factors if you want local searchers to come knocking at your door. Adding this code to your contact details clarifies further to the search engines that it's 100% an address and not just a few random words. Implementing this code will give you an advantage over other local businesses that don't and you should normally see better results in your rankings fairly quickly.
You can find all the different possible markups on the schema markup website and don't worry, this code won't change anything to the layout of your website. It's only visible if you view the source of the code yourself
.
REMEMBER
Add the schema code to your website so that search engines can identify specific text on your website e.g. business name, address, phone number
This is a way of telling search engines what specific text relates to
Discover all types of markups on the schema code website
2. Encourage reviews from customers
Go on, I dare you to rate me from 1-5.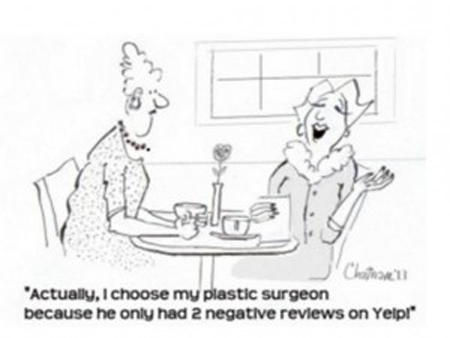 Reviews reassure potential prospects that they're buying from a credible source and are a great way to show-off that you provide a good product or service. Because let's be honest here, we all read reviews to convince us that we're making the right decision. And for Local SEO it's even MORE important as reviews are one of Google's ranking factors. They provide users the most accurate and up-to-date information about your business.
The first thing you can do is submit your website to popular review platforms such as Google my Business, Facebook or Trip Advisor. It can be worrying adding your site to a platform where you have no control over who writes what about your business but with the possibility of owner responses, you can influence and help build-up a good reputation. This method is relatively easy and requires no technical changes to your website as it's a completely separate review platform.
However if you want to take it a step further and encourage even more reviews of your business, integrate a customer review platform such as Trust Pilot onto your website. This encourages your current customers to leave a review directly onto your website without having to pass by another website, and future prospects will easily see what people think of your product or service. It does require a little technical expertise for the integration but worth it to convince local searchers to choose you.
REMEMBER
Submit your website to the popular review platforms such as Google my Business, Facebook or Trip Advisor
Regularly monitor and respond to your reviews to keep-up a good reputation
Integrate a known platform such as Trust Pilot onto your website to incite reviews
3. Create local links
Take advantage of those close to you.
If there's one thing you probably already know is that links towards your website are very important for SEO, but creating links specifically for your area will massively help your local search engine rankings. I'm going to give a few ideas of how to link build locally and it'll soon become a regular habit to do:
Use local publications to promote your business news and events
Find local online newspapers, newsletters or your town's/city's website to write about what you're doing, what you offer, business developments etc including a link back to your site.

Write about businesses with a similar activity
Choose four or five other businesses that are in a similar industry as you and write a piece about them to share on your website and/or social media. Then contact these businesses telling them you mentioned them in an article requesting a backlink or a social media share.

Create a local ressources page
Think about creating a resources page on your website with other local information that compliment your activity. For example you're an interior design store so your resource list might include a local DIY store, window manufacturer, electrician or plumber, but…yes there's always a but, creating this list isn't enough! You need tell the other businesses you've mentioned them and ask for a backlink back.
REMEMBER
Use local publications to showcase your business news/events
Write an article about local businesses of a similar industry
Create local resources by sharing information that is interesting to searchers linking it with what you offer
Don't be afraid to ask for a backlink
4. Build-up local citations
Go right, then left, then left at the traffic lights and it's just there.
Citations are references to your business name, address, phone number and website, basically the information for prospects to find you.
The most important thing here is that your NAP (name, address, phone number) is consistent across your website and all directories that you submit your website to. If your business has lots of incorrect phone numbers or addresses then the chances of your business showing up in the results is low. Also remember that if you're based across multiple locations such as Paris, New York, and London, make sure that the website citations link to the specific landing page for that location.
It's important to build citations in general directories but as you're wanting to succeed in Local SEO here, you need to focus on local! To build-up local citations submit your business information to websites such as Yelp and Google my Business. Searchers use these two websites when they want to find a business within their proximity so if you're that interior design shop in Oxford, Oxford searchers looking for an interior designer will fall onto your shop listing in the search results. Seems simple, right?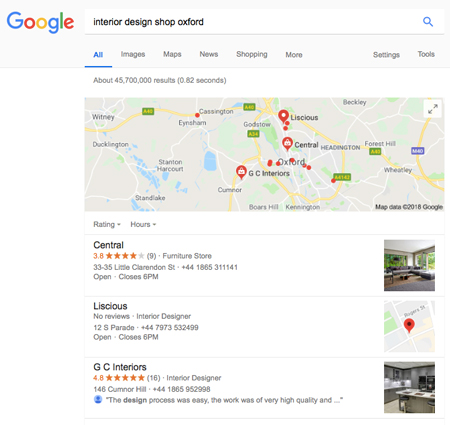 REMEMBER
Citations are references to your business name, address, phone number and website
Keep your NAP (name, address, phone number) consistent across your website and all directories
Build-up citations that are also specific to your industry or geographical area e.g. submit to Yelp and/or Google my Business
5. Create original and helpful local content
Invite the King round for tea.
You didn't really think I wouldn't talk about content when we're talking SEO yet alone Local SEO? Well here is the King popping up again. Creating content to increase your local SEO impact is a factor that you can't ignore.
Here are two pieces of advice for you to create unique local content:
Host or sponsor a local event and write a piece about it for your website (or if you have several locations, write it for the specific location page).
Create product/service-specific content. This could be specific offers and schedules for certain locations to show your differentiation between all your locations. For example you promote a discount for those living in a 5km radius or you're a sports centre chain with different class timetables depending on the location.
Bear in mind that creating local content takes time and it's better to create a content strategy so that you're being as efficient as possible. For example think about making a plan for what content you'll produce over the next two months.
REMEMBER
Host or sponsor a local event and write a piece about it for this specific location page of your website
Create product/service-specific content such as offers or schedules to show your differentiation between all your locations
6. On-page optimization
It's time for that complete makeover.
To get people to find your website in Google, you need to be speaking the same language as them i.e. understanding what they would type into Google for your site to appear in the top results. This goes for SEO in general but as right now you're wanting to locally optimize your web pages there are a few things you can do:
Carry out local keyword research
You need to research the best keywords or phrases that fit your landing pages to get local searchers to your content. For example if you have an interior design store located in Cambridge, try to position yourself on 'interior design store Cambridge', 'interior design Cambridge', 'Cambridge interior design' etc. Local searchers of yours are more likely to fall onto your website because the results match exactly what and where they're searching for.

Optimize your meta tags
All meta tags (meta title, meta description) need to be optimized so that searchers and Google understand exactly what each page of your website is about. Include one or two of your keywords in them along with the location of your business. The meta data is what the local searcher will see first so you need to convince them to choose you in 300 characters…so approximately 10 seconds ;)...good luck!

Use rich snippets
Remember rich snippets act as a 'sneak preview' for listings in the SERPs and add to search queries with more detailed information such as reviews, opening hours, prices…For local businesses this could make you stand out from others as with added information it catches the attention of searchers…especially those sparkly gold review stars .
A RETENIR
Carry out local keyword research to find the best keywords to get local searchers to your content
Optimize your meta tags so that searchers/Google know exactly what your page is about
Use rich snippets to help Google and users find your geographical information when searching for a local place
7. Create a mobile version of your website
You have 5 inches for your whole website display here.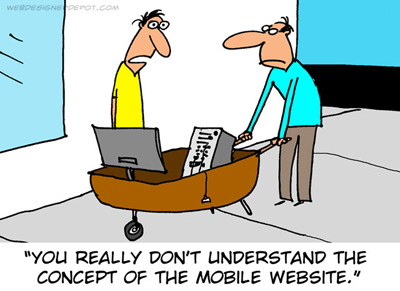 We can no longer ignore the fact that mobile searching is forever increasing and it's a great opportunity for businesses to reach a wider audience. Not only is Google now indexing mobile sites over desktop sites but people's search habits are changing. They're searching whilst on-the-go and expect to get results quickly. Local businesses can't afford not to have a mobile website especially as nearly a third of all mobile searches are related to location.
For example if someone searches 'interior design shop in Cambridge' and three results appear, they click on your website which isn't optimized for mobile, they know that in less than 5 seconds they can click onto another website and get a better experience. Result: another dissatisfied prospect!
When you're creating your mobile site don't forget to:
Focus on the necessary information that is needed for mobiles i.e. remember that mobile screens are a lot smaller and harder to navigate than desktop
Optimize it in the same way as desktop in terms of meta data and keywords
Regularly check your SEO positions (mobile and desktop rankings aren't the same!)
A RETENIR
A mobile website will help you reach the increasing number of mobile searchers looking for local information
Nearly a 1/3 of all mobile searches are related to location
Only focus on the necessary information needed for mobile display
Conclusion
Local SEO can open up many doors for local businesses but like optimization in general it takes time and results won't happen overnight…but by following these pieces of advice you have every chance in succeeding and reaching this 'ready to spend' audience.