8 useful tools to develop your business on social media

Do we still have to prove the efficiency of social media in 2021? Any structure wishing to increase its notoriety or its sales needs to use social media.
It is not the tool that will make you an influential person or company, but your ability to create relevant content for your followers or potential followers. Add to that a good organization and you will have all the elements to succeed.
To help you in your organization, here is the list of the 8 best tools that will help you manage your social media strategy: monitoring, creation, publication, reporting and moderation.
Agorapulse
A French all-in-one solution that allows you to manage your presence on social networks.
You can centralize all the users' feedback in the Inbox of the tool. You can also reply directly to your users directly from the tool.
The main function of Agorapulse is the programmed publication of your posts on your social networks. As a good collaborative tool, you can work in groups and assign a role to your team members.
An editorial calendar is integrated to the platform, an interesting feature to give you a global vision of your posts over several months. You can schedule your posts and generate different scenarios according to the social networks. By interconnecting Bit.ly to the interface, you can manage your URLs and more importantly follow the results, including UTM links (clever!)
For your social monitoring, the tool allows you to generate multiple searches based on a query, a mention or a hashtag. In addition, there is a complete and multi-account reporting feature for your organic data.
Agorapulse pricing:
For the budget, count between 79€/month to 159€/month depending on the offer.
Add-ons, Agorapulse's seductive asset for agencies and companies:

You can complete your offers with add-ons that meet specific needs for agencies and companies.
You can customize your reports with the Power Reports add-on. Very useful for web agencies to customize your reports, export them in power-point and schedule the sending to your clients.
Another interesting add-on is the competitive analysis on facebook which gives you insights on your competitors.

Supported social media:
Facebook
Instagram
Twitter
LinkedIn
Youtube
Buffer
The platform has the most important features for the good management of your social medias.
You can publish and schedule your social media campaigns on several accounts. Buffer also has an editorial calendar and the option to work in collaborative mode.
Its Analytics feature allows you to analyze your performance and create structured reports in a few clicks. It also manages Bit.ly and UTMs.
For Instagram Businessmen / Businesswomen, Buffer has created a feature called "Engagement", giving you a global view of your Instagram interactions. At a glance, you'll know which posts have high engagement rates and which ones have negative ones. Every post is tracked!
Buffer Pricing
Pricing varies from $12/month to $85/month depending on the number of social network accounts, number of users and number of scheduled posts.

Analytics access is available for an additional fee of 35$ to 50$ / month.

Supported social media:
Facebook,
Instagram,
Twitter,
LinkedIn,
Shopify,
Pinterest
Only available in English.
Hootsuite
The historical and most famous platform in the social domain! The Canadian social network management tool has all the necessary functionalities to publish, communicate, monitor and analyze all actions taken on your social platforms. All this, centralized on 1 single platform with multi-account access to work in collaboration with your entire team.
If we were to stop there, Hootsuite would have the same features as its colleagues. But (yes there is a but), the platform integrates, in its tracking, the data of your ads, allowing you to have an overall view of your organic and paid actions.
Another strong point of Hootsuite is its training and solutions. You can now collaborate with your sales teams and engage them on the platform through Hootsuite's Social Selling solution.
Without talking about the extensive application library, with which it is possible to interconnect, such as Slack or Trello for example. This gives you great flexibility in managing your projects and integrating your entire team in your missions.


Hootsuite pricing
Depending on the features you need, the annual cost will vary. But it also depends on the number of users and social media accounts to be connected. It goes from 39€/month to 599€/month (not including the custom offer called Enterprise)

Supported social media:
Facebook
Instagram
Twitter
Pinterest
LinkedIn
Youtube
Tweetdeck
Tweetdeck is also a long-standing tool but it is 100% free. Although its use is very limited and totally dedicated to Twitter, it works quite well!
What can you do on Tweetdeck?
It is essentially a monitoring tool where you are the only manager (each user has his own tweetdeck!). You set up your columns according to simple queries and you just have to wait for things to happen. It's up to you to come back to the platform to be kept up to date on what's going on in the Tweetosphere!
You can add as many Twitter accounts as you want and you can also reply to private messages from other accounts and schedule tweets. It's very functional and easy to use.
Swello
Another French platform with a clean and intuitive design that offers its users the possibility to schedule their publications and follow their statistics. The tool also offers a competitive analysis on Twitter and an alert system to help you know your strengths and weaknesses compared to your competitors.
The solution has a lot to offer. Its smart side lies in the integration of 2 features called Swello Pixel and Quality Coach. The first one helps you create your artwork adapted to social networks, the second one works like a coach to optimize the visibility of your messages and the engagement of your community.
Swello Pricing
Swello's attractive advantage also lies in its pricing, which ranges from €9.90 to €29.90 per month, billed annually.
Supported social media:
Facebook
Instagram
Twitter
LinkedIn
ProspectIn
The 100% French solution to generate B2B leads automatically. A complementary tool for your business operations on the most influential B2B social network: LinkedIn.
ProspectIn allows you to generate qualified leads by automating the acquisition process from A to Z. The prospecting solution allows you to make automatic connection requests on LinkedIn, to schedule your actions according to LinkedIn-specific deadlines and conditions, to perform different private message scenarios and to export QUALIFIED LinkedIn profiles for your marketing operations.
In practice, here's what you can do:
Create campaigns on LinkedIn with marketing scenarios,
Send automatic connection requests with personalized notes
Automatically visit profiles (potential prospects) and follow them,
Send personalized messages in bulk
Create different campaigns depending on the targets
It's compatible with any LinkedIn account. From standard to paid accounts. For those who like extensions, a Chrome extension is available.
ProspectIn Pricing
You can test the tool for free in a limited way with the Standard offer. Other offers are available from 24,99€/month to 149,99€/month. A very attractive annual offer is available with up to 50% discount depending on the offer.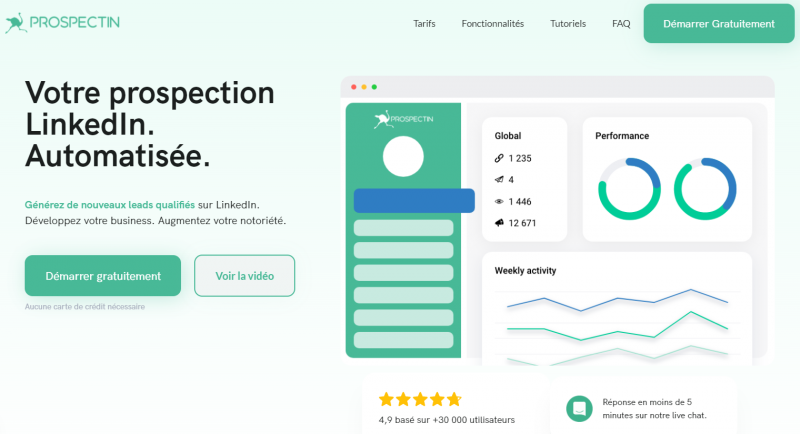 As you can see, this is a tool entirely dedicated to LinkedIn.
Canva
How to communicate on social networks without visual tools, you might ask? There are those who use Paint... those who master creative tools like Photoshop, Illustrator and those who use Canva, the SaaS graphic creation tool designed for social media!
You can create your own designs or use existing templates. Templates that can be modified as you like.
You select a design to create: A presentation, a poster, a logo, an infographic, a flyer, a publication. Everything is already in the right dimensions. You will be sure to have no typos when you put it online or print it. That's already a good point!

And that's not the end of it!
It's a Click & Drop tool. You can add other elements to your template just by clicking on an item in the library: photos, different elements, shapes, text, videos, music...
Another clever aspect of Canva is its interconnections with other platforms like Youtube, Flickr, Hubspot, Bitmoji, Giphy and even Google Maps (yes, it's not a joke). This allows you to get ideas of videos or images to integrate directly on your template. Of course, you can also connect your social network accounts.
It is also possible to work in collaboration. You can create work teams, folders and even save templates created by you. This way, you can standardize your visuals in accordance with your graphic charter so that everyone can use them, without continually asking for your help!

Pricing Canva
It will make people happy! Because there is a 100% free mode. For those who need more features and also need to work in a team, you can choose one of these 2 paying offers : the Pro offer at 9.16€ per month (year payment) or the Enterprise offer at 27€ per month and per user.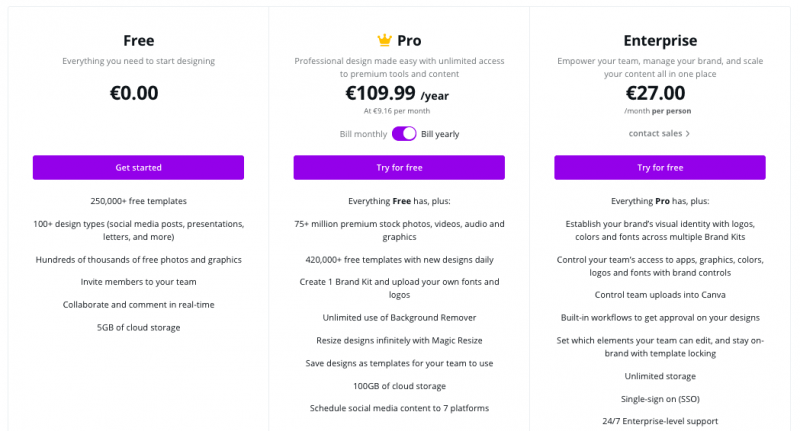 Unfold
The app for Instagram creators (or other stories). Indeed, Unfold is a mobile application allowing you to create content on your social media with a large panel of templates that you can use to save time in your creations.
It works like most other apps, you add filters or photos directly on your templates, you adjust your brightness, contrast, shadows, highlights, saturation, heat and hue. Same thing with their advanced text tool, which offers you unique fonts that you can resize to suit your needs. If you're used to this type of app, you won't be disappointed.
What makes the app stand out is that once you log in to your Instagram account, you can schedule your posts. Like Tweetdeck!
You can create Bio Sites for yourself. This works like a standard page with links to other sites or social media pages you use. This is useful when you add them to your Twitter or Instagram accounts, so you can share all your links on one page.

Unfold pricing
It's Freemium. The app is free. As soon as you want to add particular templates, you'll have to pay 1€ here or 2€ there.
That's it, you're ready to get started on social networks! Now, get loose, be creative and don't be intimidated by hateful comments 😉