7 SEO ideas for businesses on a budget
SEO can be costly and time-consuming. I'm going to give you some pieces of advice on how to improve your optimization which are simple and quick to put in place. Before I start, one thing you mustn't forget is that SEO is a long-term endeavor!
1. Put aside 2 hours per week for your SEO
Time is money.
When we talk about "SEO", "optimization" or "that thing to be well-positioned in Google", it's important to remember that it's something that doesn't happen overnight and it needs to be worked on regularly.
Once a week, close your email inbox, turn off your telephone and concentrate for two small hours on your optimization.
REMEMBER
2 hours per week is enough to optimize your SEO
It's important to stick to this every week
2. Have an attainable objective
Set SMARTer, not harder SEO goals.
"I rent cars in Paris so I'm going to position myself with 'car', that's good right?"…well not quite! If you rent out sport cars in Paris, try to position yourself with 'sports car rental Paris'. Lots of competitors will try and position themselves with 'car' so stand-out from the crowd and use long-tail keywords (keywords that are rarely used but put together can represent up to 80% of traffic…now that will get you working on them!).
My last piece of advice for this point is: it's more advantageous for your optimization to be in first position for one keyword/phrase than fifth position for ten keywords…don't settle for second best. Users tend to click on the first three results, and after that they'll just change their search request.
REMEMBER
Target several precise terms (long-tail) rather than a generic term
It's better to be in 1st position for one keyword than 5th position for ten keywords

3. Update your pages
Give them that much-needed facelift.
Every week you sit down for your 2 hour SEO session choose one key page and aim to improve its content. It's better to completely optimize one page at a time rather than trying to optimize several pages at once with only a 30% optimization success rate.
Here at Cocolyze we suggest a minimum of 300 keywords per page to provide your users (and of course the search engines) content that they can really get their teeth stuck into. For your landing pages we advise a minimum of 800 words. Also remember to position your keywords within the text. However, avoid similar expressions such as "Sports car rental. Rental cars Paris. Sports car rental from €200. Luxury rental cars" all on one page.
This takes me back to the point I made in the paragraph above about long-tail keywords…long-tail keywords are your friends!
The idea of choosing one page per week is that it gives you a reason to produce fresh content and shows Google that your site is animated and worth visiting.
REMEMBER
Create fresh content for 1 page per week
Minimum 300 words per page
Minimum 800 words for landing pages
4. Reach out to industry influencers
Prepare your best chat-up lines.
No matter what industry you're in you'll always find influential people or groups. Sticking with our example of sport cars, there'll be several Youtubers/bloggers which are strongly influential in this domain so imagine getting a mention of your site in their blog…the dream!
1. Start by creating a list of influencers in your industry
I'm staying with the sports car rental example here, type into Google "sports car blog" and you'll end up with hundreds of results…but not everyone you'll find will be worth contacting. Looking at the number of comments on their articles will give you a good idea of how popular they are.
Then take a look at the social networks and see who are the most influential, their following etc.
From doing all of this you can create a mega list of all these influencers.
2. Contact the people on your list
This may not be the most rewarding of tasks…influencers are contacted everyday by hundreds of people so make sure you differentiate yourself from the rest. A good example would be to leave a public message on their Twitter account. The person in question will be put on the spot (and their community will see that too!).
It's a double-edged sword I know but there's no harm in trying!
3. Get a link / a mention from them
You've contacted this famous amazing blogger who speaks about all the latest sports cars, tested them all, seen them all…and he writes an article about your car rental website…your potential clients and backlink level are at 100+++.
REMEMBER
List the influencers that follow your audience
Get in contact with them to try and get an article, link or mention from them
5. Create content that can be shared
Be generous!
By creating shareable content you're creating backlinks without even really looking for them. Publishing brand new content such as images, studies and graphics which reflect your company's image will more likely lead to 'shares' from followers as they know they can trust the information being provided. These shares create quality backlinks for your site, and you know what they say, the more quality backlinks you have, the more likely Google will reward for your site's popularity.
Inspirational quotes are also another type of shareable content as they're a source of empowerment which trigger something within us to carry out an action. The famous quote from Walt Disney "If you can dream it, you can do it" was shared millions of time and there are of hundreds of images representing this quote. Inspirational quotes are valuable as it's content that does something, and content that does something is content that can be shared.
Also think about creating posts or articles that reflect your image and don't forget to put your logo on the images you create. It's great to create new content but if you forget to add your logo or your colors…well they're of not much use!
For example: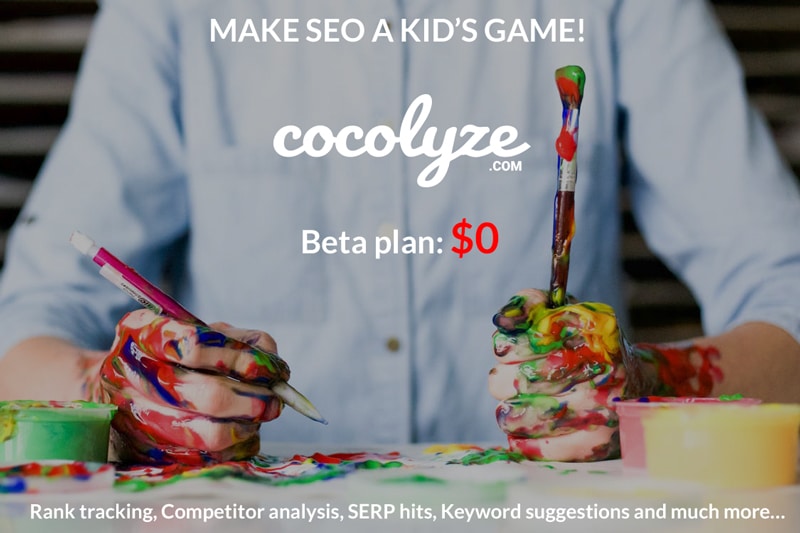 REMEMBER
Use images/texts that reflect your business' image (colors/branding)
Inspirational quotes is content that can be easily shared
Don't forget to add your logo on each image you create
6. Establish a relationship within a network
Networking is the no1 unwritten rule of business success.
Think about creating a network with other professionals which are complimentary to your activity, whether that be products or services that compliment your own. By getting mentions from other companies or by mentioning other companies on your site, it provides your site with links…and as I said above quality (and also relevant) backlinks are one of the key elements in the SEO world.
Another way of creating a relationship between complimentary companies is providing feedback on their websites which will be displayed on their sites. This creates a backlink for your site and gives you extra exposure to others visiting that site. Let's take the following example: you're a digital marketing agency and have worked with a new client on their website optimization; you leave feedback on their site about your experience working with them, this is published on their website and thus gives you exposure and a backlink. Result!
REMEMBER
Get links or mentions from websites with complimentary products/services
Give feedback on client's products/services which will be published on their site
7. Think local
1 Keyword Street, Backlink town, RK01 SEO
Local SEO focuses on providing results that are relevant to a searcher based on their current location, such as "sports car rental Paris".
The first step is to register your company in Google MyBusiness. All you need to do is follow Google's instructions and your company will be displayed like this on Google: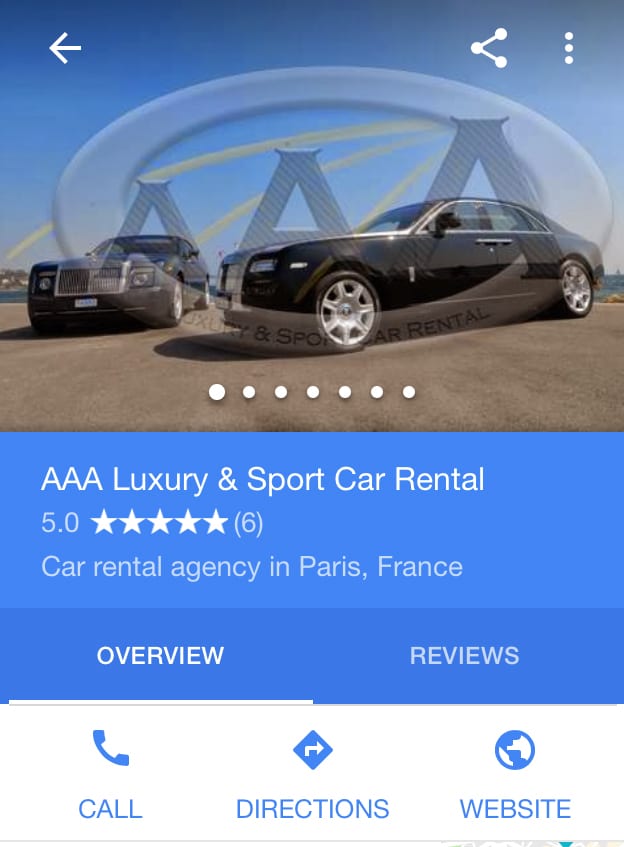 The next step is to create backlinks and what better way to get them than by listing your company in directories? TripAdvisor, Yelp, Yellow Pages, etc will help you with this. It's pretty easy to get registered in directories and there are hundreds out there...go and make the most of them!
Also think about local sites that can give you a link towards your site such as your local council, chamber of commerce etc.
This is something that may seem obvious and trivial but remember to put your business address on your site! Google won't be able to index you locally if it can't see the address on your site.
Last piece of advice (promise!) is to make sure your site is Mobile Friendly! With 60% of searches now done from mobile devices, having a mobile-friendly site (a site that adapts to all types of screen) is definitely a must-have. More importantly, Google likes mobile-friendly websites
REMEMBER
Register your business in directories (Google MyBusiness, TripAdvisor, Yelp, Yellow Pages)
Add your business address to your site
Make sure you have a Mobile-Friendly site
Conclusion
This is all achievable if you put 2 hours aside every week and persevere with it. There will be ups and downs during your SEO adventure but you must be persistent with it…You'll soon become a master of SEO.