Defining and identifying Keyword Stuffing
A legitimate black-hat tactic, keyword stuffing is a well-known subject among experts and professionals in the field of search engine optimization. Despite the loss of its popularity and efficiency due to the ongoing improvements and advances of search engines, KS is a strategy still practiced by some SEO professionals and bloggers. However, it remains harmful to any SEO strategy.
Keyword stuffing definition
Keyword stuffing is an SEO technique of keyword repetition within web content whose aim is to help web pages achieve better ranks and boost their visibility on the web. Keyword stuffing can include the repetition of unnecessary keywords or phrases and the addition of words out of context, the insertion of blocks of the same keyword, and the use of keywords that are not relevant to the topic of the page.
Believe it or not, this practice used to work. However, due to its overuse, Google and other search engines had to find a way to stop it and started punishing the practice since it was harming the users' experience on the web. According to some experts, any content with a keyword density of over 2% already raises suspicions and can lead to serious punishments and a drastic ranking drop. However, this "perfect density" is quite debatable and was never fully proved.
But, what is keyword density?
Keyword density is a term used to describe the number of times a target keyword is used on a webpage. This percentage represents the frequency that a target keyword appears relative to the number of words on the page.
Example:

Is there an ideal keyword density?
Google and other search engines haven't established an exact percentage for keyword density. An optimal KD will depend on the page and phrase. The only priority for search engines is the target words appearing naturally within the text and frequently enough for them to identify the subject. However, calculating your page's KD can help you have an idea of its optimization and readability for search engines. It can also help you target a page to a specific phrase or set of keywords and be sure you're properly working on them.
Checking for keyword stuffing with Cocolyze
SEO solutions such as Cocolyze have created tools to facilitate and automatize the identification of KS on any content. For example, you can verify different aspects of your content with the free writing assistant tool and check if a text is 100% optimized. To do so, you only need to paste your content on the Editor or write directly on it. Instantly, on the right side of the window, you find all the recommendations with the indications of the necessary optimization. Among them, the "no over-optimization" criterion. The "over-optimization" criterion enables you to check if there is no KS on your content. If your target keyword was repeated too many times within the text, the writing assistant tool indicates in red the word that was repeated as well as all the information about it (i.e occurrence, density, etc):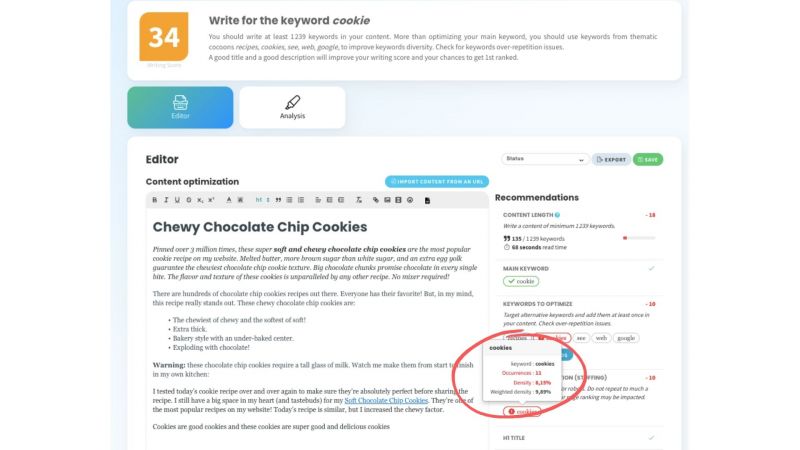 With this information, you won't need to manually verify your KD. Also, you will be able to verify if you've properly worked on the keyword you've chosen to rank.
While you are revising the content and replacing or adapting the keyword to avoid repetition, the tool indicates if the changes are enough or not. The more you follow the recommendations, the higher your score gets.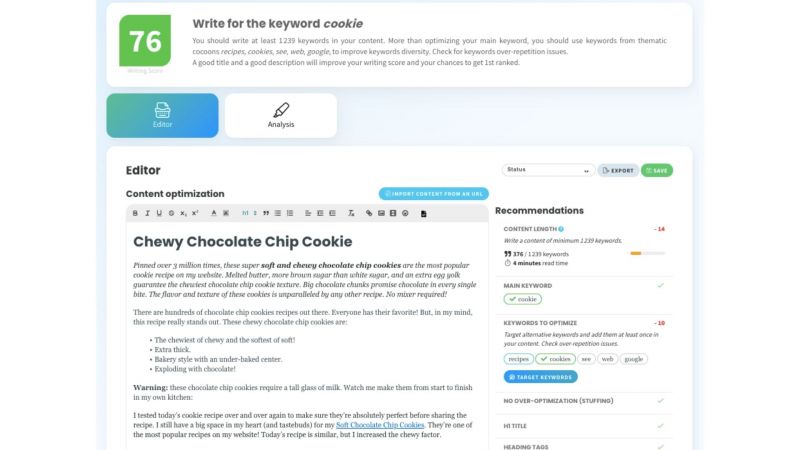 If you are looking for an SEO solution to improve the overall optimization of your content and check not only its keyword density but also the optimization of the page title and meta description, heading tags structure, and different other content aspects, you can test Cocolyze's Writing Assistant Tool for free.
Conclusion
By over-optimizing your keyword, you risk being penalized by Google and other search engines and have your rank dropping instead of rising. Checking for keyword density should be used as a strategy to focus on the use of the target keyword within a content, rather than an indication of the content optimization.
Recap: