How to track and improve your backlinks
Understanding how to use our Links tool is vital to discover all your backlinks, good and bad pointing towards your website.
Click on Links and you will get an initial overview of your backlinks. This is a great table of information with all the backlinks pointing towards your website. Your list is limited to the maximum number per campaign of your account. You will see the link source and the context as well as the targeted page of your site.
Now there are 3 important indicators in the first 3 columns of the table:
Spam Rating (SR): this measures how suspicious the link is.
Page Influence (PI): this measures the popularity of a referring page.
Domain Influence (DI): this measures the popularity of your site.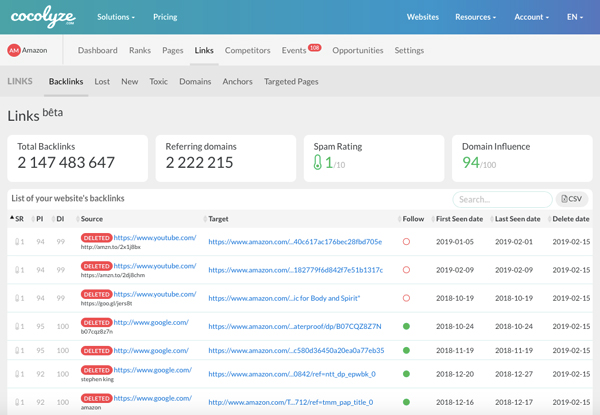 Our Links tool breaks down all your backlinks for you.
In the Lost tab you get access to the backlinks that have been removed from the referring site along with the reason behind it. By clicking on the graph you can see when the different links were removed.
New backlinks are the latest backlinks created towards your site in the last month - by clicking on the graph you can see the date of these new backlinks.
Toxic links are those with a spam rating between 8 and 10. It's really important to regularly check this tab as these links could be potentially dangerous. I suggest you click on the source and inspect the website to decide whether you disavow the link or not.
Your referring domains show how varied your backlinks are. You can filter the table in this tab to understand where the majority of your links come from and how well they will help with your domain reputation, i.e. are they coming from a credible source?
In the Anchors tab, the table is great to see which is the most common anchor text and by clicking on each anchor, you have a list of the links so that you can see if the text is well-related to the page.
This is very useful in showing you which pages the backlinks are targeting. The table is useful to see which page has the most links or the least and therefore which page could do with additional links.
Your backlinks analysis is updated everyday so that you have the latest figures.
The Links tool is really useful for you to understand how visible your domain is and if the links created will bring in qualified website traffic.
If you have any questions about the Links tool don't hesitate to contact us via our chat or our contact form.