How to optimize your website
In this guide you will discover how to use the Page Analysis feature; an essential functionality to know what needs to be improved for your page optimization and how to achieve it.
Firstly click on the Pages tab.
Cocolyze analyzes all your best ranked pages everyday on all your targeted keywords. The table that you will arrive onto in Pages is really useful for you in deciding what pages need prioritizing, do you have any non-indexable pages and what are the pages to work on with the highest SEO Value to gain.
From this page you can also analyze a new page. A new page is a page that you're not currently ranking on but Cocolyze will analyze it to discover the reasons behind this.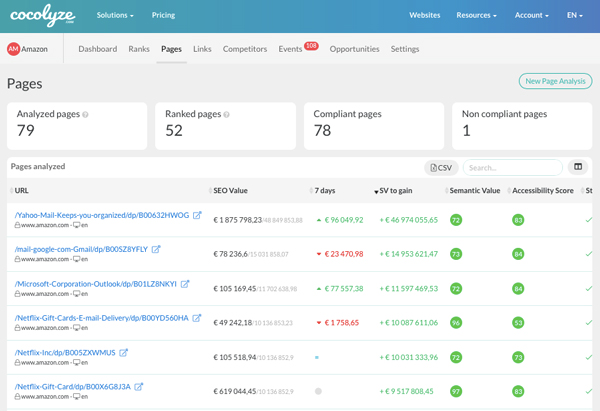 To discover a Page Analysis click on one of the listed pages in the table, we suggest the page with the highest SEO Value to gain.
Now you will arrive on the Page Analysis.
The summary on the left gives you a quick overview of your page's optimization performance and then on your right is your list of personalized advice for this specific page, each one being clickable.
There are 2 ways to attack your page optimization, we advise you to go through each piece of advice and correcting them as you go along. In this guide we will go through each of the scores so you can understand how helpful they are in optimizing your website.
This is an important score to look because you will see how well a specific ranked page corresponds to the targeted keyword. You'll first find your targeted keywords for this page. Click on the consistency analysis for a keyword and you will instantly see if this page corresponds to the targeted keyword. Is your targeted keyword included enough times in the overall content, page title, meta description or H1 title?
The semantic score represents the quality of your content and whether it's well-structured or not. A low semantic score indicates that you need to expand or improve the structure of your content.
This very useful in determining if your page is providing a good user experience. It's important to know that your page is loading quickly and your site is secure.
The great thing about our tool is that you can refresh the analysis whenever you want. This will update your scores and your to-do list so you know exactly what is left to be done.
This for your Domain Reputation. This is an analysis of all the referring links to your website to give you an overview of how visible your site is.
This is how well the targeted keywords for this page are ranking in the search engines. You can use the table to focus on the optimization of the keyword that has the highest SEO Value to gain.
We notify you everyday of any changes to each specific page so that you're always up to date on its ranking performance.
You can also access the Page Analysis via the SERP analysis page and compare your scores with those of your competitors. You can also access the Page Analysis of any of your competitors.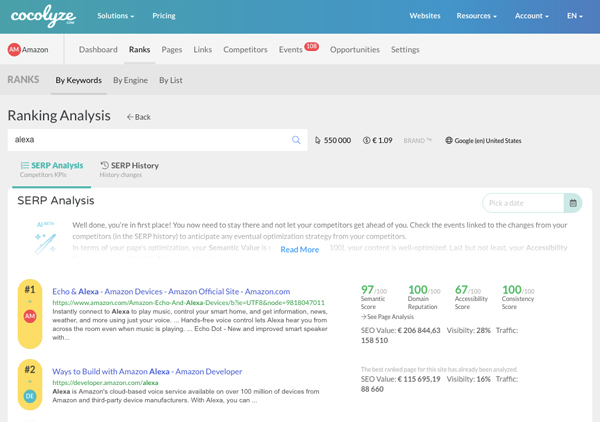 This Page Analysis tool is a brilliant feature to know exactly what needs to be carried out to improve the optimization of each of your ranked pages and improve your online visibility in the search engines.
If you have any questions about the Page Analysis tool don't hesitate to contact us via our chat or our contact form.