How to track your website ranking
In this guide you will learn how to track your online visibility using Cocolyze.
Once you login to your account, click on Ranks and this guide will help you get the most out of this feature.
Once you arrive into Ranks you will get a quick overview of your ranks.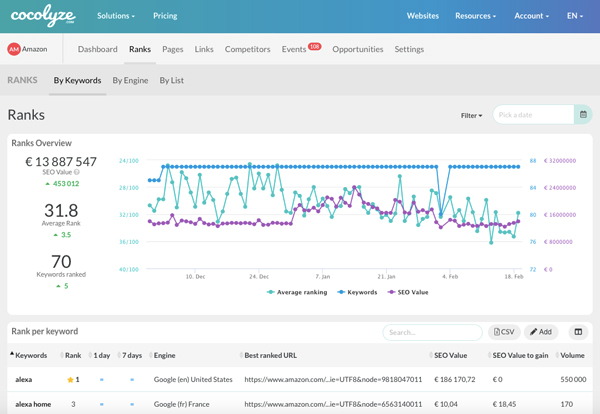 You will see 3 important metrics on the lefthand side of the graph:
This is the most useful metric as it provides an overview of your ranking evolution due to the importance of your keywords. It is much more useful to track this over your average rank because if you're ranking well on important keywords, this will significantly increase however it will barely change if you're ranking on several keywords with a weak potential.
This is your average rank in Google and Google mobile.
This is the number of keywords that you currently ranking on in the search engines.
Below this graph you will find a list of all your targeted keywords. This table is very useful because you can filter to discover your top ranking keywords or see which keywords have gained or lost a rank in for example the last 24 hours, 7 days or 28 days. The most important column to look at is again the SEO Value to gain, which is particularly important if you're ranked in first position. Filtering your keywords for example by search engine gives you a ranking overview of a specific engine. By clicking on the graph or the calendar pop-up, it's great for you to look at your ranking evolution to better understand when exactly your rankings changed.
Each keyword is also clickable in the table directing you to the SERP analysis view.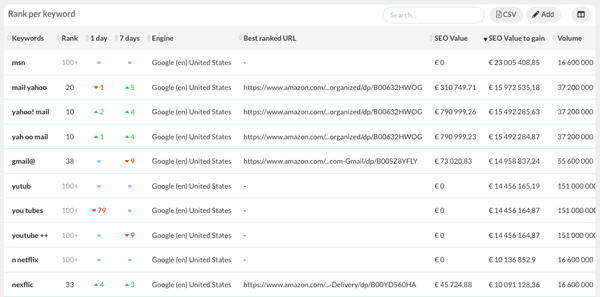 You can also track your keyword visibility by search engine. An essential feature to tell you which search engine is performing better or which search engine has ranking issues that need to be fixed. It also shows you the ranking difference between desktop and mobile, international search engines and local engines too.
In the table below you will find the total list of keywords for all your tracked search engines which is very useful to see what are the best ranked keywords over your search engines and the keywords that need working on.
If you have several categories of keywords that you're tracking, you can group your keywords using the By List section. Creating lists is great for you to group keywords by theme so that you can efficiently follow the progression of a specific group of keywords. Particular great for regrouping products.
To do this click on create list, name the list, click on Add then choose the relevant keywords from this list on the righthand side, click Save and you'll be redirected to the list page. If at any point you want to make changes to your lists, click on Manage Lists or via the Settings tab in the top menu.
Filtering the table is also good for discovering the group of keywords that need work on and you can compare each group against your tracked competitors and your different search engines.
Cocolyze analyzes and tracks all your keyword ranks but it also automatically tracks your competitors on each of your targeted keywords. It's vital that you check this feature everyday to see which competitor is moving up or down on their keyword rankings. It's important to see which competitor is improving their SEO ranking strategy by filtering the table and also to go back in time to understand when a competitor gained or lost rankings.
If you want to compare your rankings against a competitor, click Compare against the name of the competitor in the table and you'll get an overview of your common keywords and who's ranking higher.
To discover who's ranking higher or lower on your targeted keywords, click on Keywords underneath the top menu and discover how you rank in compared to all your competitors.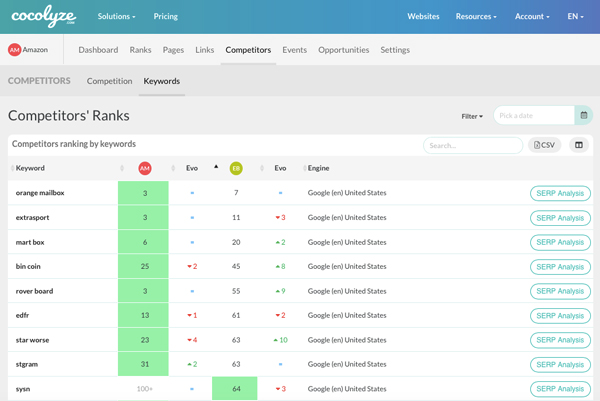 Remember that each keyword in all tables is clickable leading you directly to the SERP analysis.
Now you've arrived onto the SERP analysis Cocolyze analyzes your pages and those of your competitors and provides you with useful scores here so that you can quickly compare your ranking optimization against your competitors. It's essential that you use this SERP analysis to understand your page's strengths and weaknesses.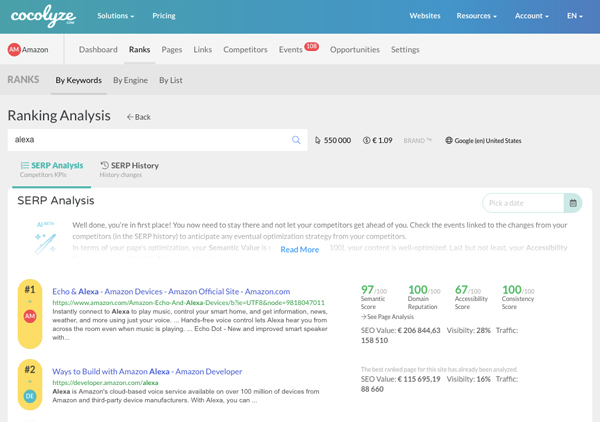 We automatically update the SERP everyday and you get a full keyword rank history in the SERP history tab, plus every ranking change carried out from you and your competitors in the events timeline.
Now you have an in-depth guide into how to get the most of the Ranks and Competitors features.

If you have any questions don't hesitate to contact us via the chat or our contact form.