Getting Started with Cocolyze
Cocolyze is your SEO tool to help track your keyword rankings, monitor your competitors and improve your online visibility in the search engines. Now you've created your Cocolyze account, it's important that you set-up your campaigns in the right way.
Firstly you need to create your campaign. Once you've created your account you will be redirected to the 'Create a campaign' page.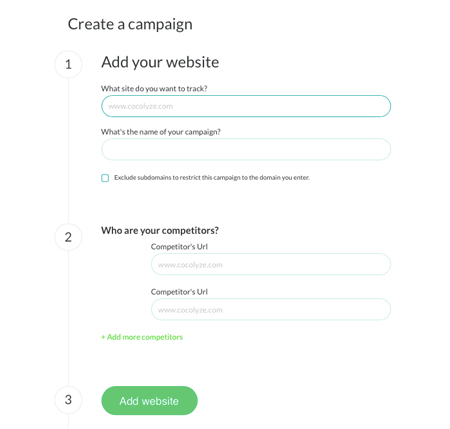 You need to enter the URL of the website that you want to track. We analyze all the sub-domains of the URL but if you want to exclude these, please click the box indicated the campaign name.
If you want to track your competitors' keyword and page rankings, enter their URLs. You can add up to 20 competitors per campaign and these can be changed later on.
Click on 'Add website' and you will be asked to add your keywords that you want to track. Cocolyze needs to know your targeted keywords in order to analyze your visibility and to provide you the best optimization tips for your website. This is one of the most important steps of setting up your campaign.
Choose the search engine that you want to track you website on, Google desktop or Google Mobile, the targeted country and the targeted language.
You can additional search engines, countries and languages once you have done the initial set-up.
If you're a local business, click on the blue Local button to type in a city where your visitors are from.
You can add your keywords in three different ways:
Manually (this includes typing the keywords in yourself)
Using our keyword suggestions
Importing a file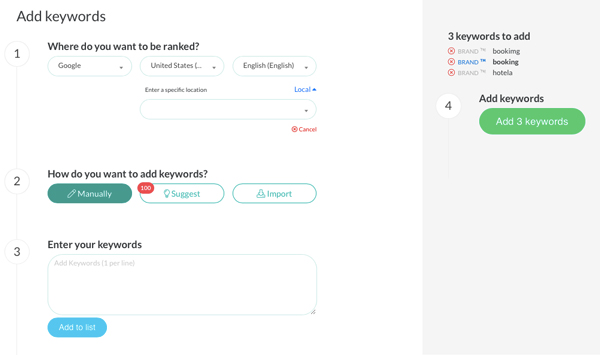 After adding your targeted keywords you will be redirected towards your Dashboard. When you arrive, you'll see that our robots are in the middle of analyzing and gathering all the data: your keywords, your ranked pages, your competitors' rankings and your backlinks. This can take a few seconds but your Dashboard will update automatically.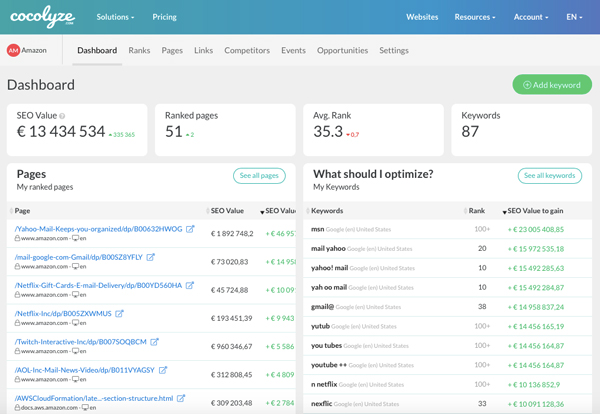 Your Dashboard is the starting point of your campaign tracking giving you an overview of your current visibility. You will have access to:
SEO Value; this corresponds to the estimated value of an SEO position and takes into account the importance of your targeted keywords.
The number of ranked pages
Your average rank in Google
The number of keywords you're tracking
We will also provide you with:
A list of all the pages that are currently ranking in Google
A list of your targeted keywords
These are both filtered in order of SEO Value to gain; the pages and keywords that you need to work on first.
From the Dashboard you also have access to all the features that we offer.
Ranks allows you to track your targeted keywords and access your keyword ranking history.
Here you will discover how to optimize your web pages with personalized to do-list.
You will discover all your different types of backlinks pointing towards your website.
Compare your keyword rankings everyday with those of your closest competitors.
This is where you'll get notified of every change on your campaign, for example a rank gain or loss.
This is your keyword suggestions tool to find potential new keywords to rank your web pages on.
This is where you can add or delete competitors and keywords, and share your campaign with another Cocolyze account.
If you want to access another campaign, click back on websites at the top of the page and this will bring you back to the list of websites that you're tracking.
An important aspect to remember is that you don't need to create separate campaigns for each different search engine/country/language tracking of the same website. This can all be done under one campaign.
Here is all the necessary information for setting up your tracking on Cocolyze.
If you have any other questions don't hesitate to contact the team via our chat or our contact form.